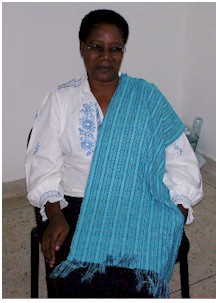 Managing Director
Fuhiameni W Kishimbo
CRACODE is a Tanzanian based professional company dealing with the design, production and distribution of cultural crafts and services including development of related soft skills.Our portfolio of services includes the provision of training and consulting services to targeted audiences
Corporate DirectionOur corporate direction is guided by the vision of the founding members, which is encapsulated into the following statements
The Vision Statement:
We aspire to become World leaders in the cultural, hand-made crafts industry
Our Mission
To exceed customer expectation in product design, production and delivery in the hand-craft industry.
Our Quality Policy
CRACODE operates within a Quality Policy that requires all its actors to adopt and embrace a philosophy of quality and customer focus. To this end, CRACODE is committed to providing the highest standards of quality throughout its product realization process.This policy underpins our social contract with clients.The products and services of CRACODE are available both to the domestic and the international markets.We also provide custom designs that suit unique individual tastes. Objectives
The overall objective of the company is to empower our product consumers into the culture of using organically hand-made products that are environmentally and health-friendly as well as helping communities to empower themselves through self-help home initiated projects
To manufacture and distribute both domestically and internationally home-made artifacts
To innovate and fabricate locally produced organic products using modern technology and creativity in order to improve their quality for enhanced customer satisfaction;
To coach and mentor disadvantaged community members in life skills in order to improve their livelihood
To conduct training to school leavers and women in the field of entrepreneurship, handcraft production, and personal health
To offer counseling services to the youth, school drop outs, single mothers and HIV infected and affected people.
To offer consulting services in the field of counseling, skills in handcraft production, health, HIV and AIDS, entrepreneurship, production and marketing of agricultural and industrial goods, management of information systems, project planning and management, financial and accounting services, audit services, environmental care, institutional development, strategic management,economic and social impact assessments.
Core Values
In pursuit of our mission, we derive inspiration from the following principles and value system.
Abiding by the quality principle by getting it right first time
Loyalty to clients/customers
Empowering Communities
Integrity in all our endeavors
News